Our Story
A Labour of Love
In the 1970's in Rarotonga, a little girl sat with her grandmother as she created magic. Grandma Moari grated raw coconut flesh, mixed with local flowers Tiare and Frangipani, and left the fragrant mixture to bake in the sun.
The little girl watched, as like magic, a liquid clear oil would slowly melt out of the coconut flower mixture.

The little girl, Susan Tuoro, grew up knowing that carefully extracting essential oils from Cook Islands nuts and flowers held the secret to beautiful skin and hair.
In 2007 Susan and her husband Robert began to produce their skincare range and coconut oil at their home in Rarotonga. To this day they continue to extract the purest Tamanu Oil and Coconut Oil from the centuries-old method of grating, drying and cold-pressing using a heavy manual press. It is a labour of love that began as an idea decades ago from the knowledge of Grandma Moari.
"Small batch production is an integral part of
our mission to provide sustainable and
natural skincare of the freshest
and highest quality"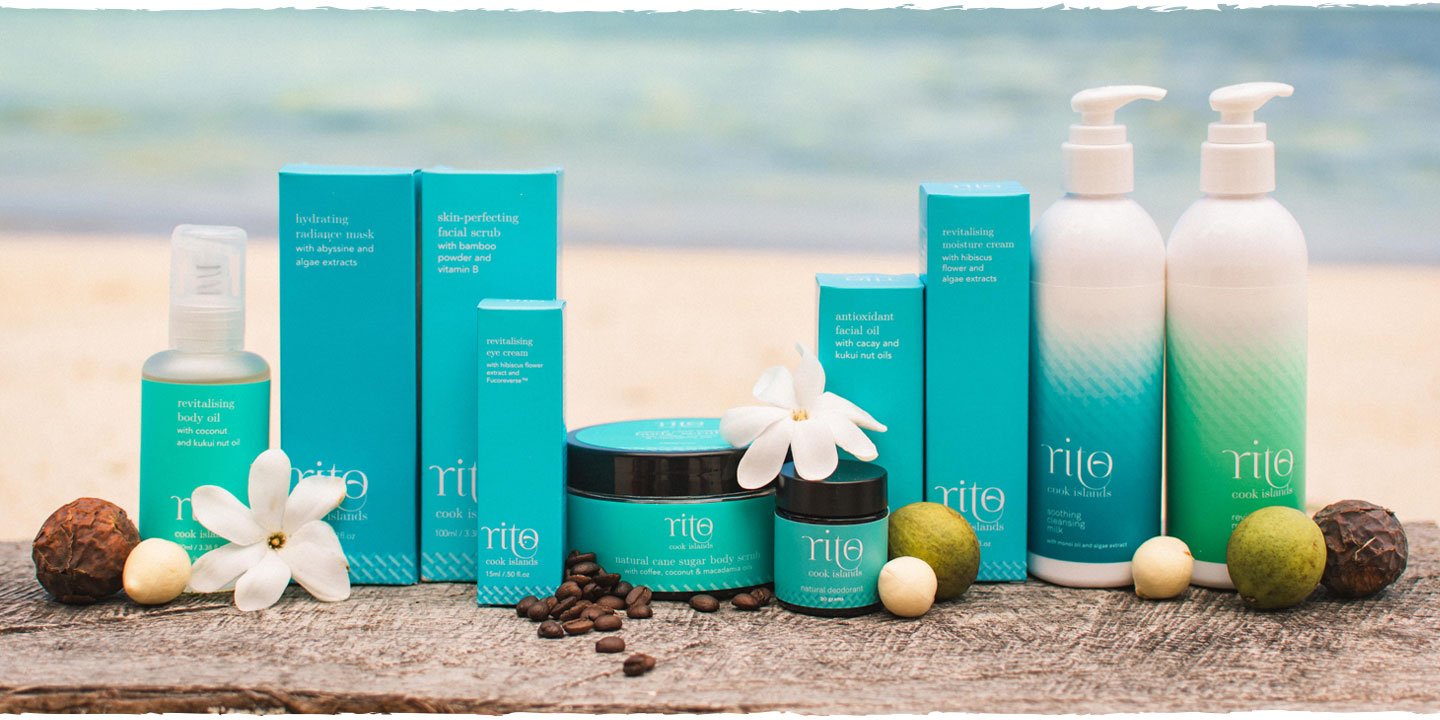 "I have been using Rito face oil for over a year and have seen a big difference in my skin tone and wrinkles. I am 52 years of age and wanted a product to slow down the ageing process and reduce the damage from free radicals and the sun."
"I am a 63 year old sun lover with sun damaged skin. After using Rito Antioxident Facial Oil for the last 9 months my skin is looking hydrated, healthy and a more even skin tone. It's lightweight and quickly absorbed and I love that it's all natural ingredients with no nasties."
"I have been using the Rito Antioxidant facial oil for about 4 or 5 months. I have found the oil to be light, non-cloggy and doesn't leave my face feeling greasy. It doesn't cause my skin to break out or make my face look to shiny. It leaves my face feeling soft and nourished, I love it."
"I LOVE Rito Cleansing Milk – it's beautiful, I started using it when I first lived in Rarotonga and have been using it for years. Just one squirt covers my entire face and everything comes off with a cotton pad."
Rito Coconut Oil is incredibly versatile and one of my favourite oils to use for cooking, from salads to seafood. The three flavours of the Chilli, the Lime and the a la natural coconut oil all have a part to play when preparing meals.